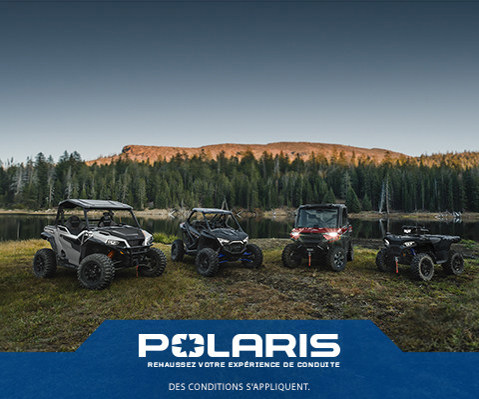 See Our Featured ORV Offers
Find rebates and financing offers on Polaris General, RANGER, RZR and Sportsman ATVs, side by sides and UTVs during the Polaris Summer Sales Event. Get the best deals and coupons on Polaris parts, apparel and accessories.
Rechercher des promotions
Ouvrir le dialogue
* Les offres ne s'appliquent pas au Québec. * Les offres varient selon le modèle. Financement disponible sur les modèles RZR®, RANGER®, Sportsman®, GENERAL® et ACE® de Polaris® neufs et non enregistrés des années modèles 2016 à 2021, achetés entre le 1er août et le 30 septembre 2021. Consultez votre concessionnaire local pour les détails. † Offre de financement d'une durée limitée offerte par Financement Auto TD sur approbation du crédit et valide sur certains modèles neufs et non enregistrés des années modèles 2016 à 2021 achetés entre le 1er aout et le 30 septembre 2021. Exemple de financement représentatif réalisé à partir d'un modèle RANGER 1000 2021 au PDSF de 16 299 $. Un versement initial peut être demandé. Un montant de 16 299 $ financé à un taux annuel de 3,99 % sans versement initial équivaudra à un paiement de 300,10 $ par mois pendant 60 mois. Le coût d'emprunt sera alors de 1 706,84 $ avec une obligation totale de 18 005,84 $. Les taxes, permis, primes d'assurance, droits d'immatriculation, frais de transport et d'inspection de prélivraison chez le concessionnaire ainsi que tous les autres frais applicables ne sont pas compris. Les concessionnaires peuvent vendre à un prix inférieur. Les frais applicables peuvent varier selon la région et le concessionnaire. Une commande ou un échange du concessionnaire peut être requis – mais peut ne pas être disponible dans tous les cas. Consultez un concessionnaire agréé participant pour obtenir tous les détails, les modèles admissibles et d'autres offres. Les offres sont sujettes à modification, prolongement ou annulation sans préavis. Montant financé minimal de 3 000 $; montant financé maximal de 50 000 $. D'autres critères d'admissibilité et restrictions peuvent s'appliquer. Les erreurs ou omissions font exception. Les offres peuvent être modifiées ou résiliées par Polaris en tout temps à sa seule discrétion.
AG Advantage Promotion:
Restrictions : Offre valide jusqu'au 30 septembre 2021. Réduction de 10 % sur le PDSF, jusqu'à concurrence de 1 300 $, sur tout modèle RANGER, GENERAL, SPORTSMAN et SCRAMBLER d'année modèle 2021, neuf et non enregistré. Offre de réduction de 750 $ sur véhicule côte-à-côte et de réduction de 500 $ sur VTT valide à l'achat de tout modèle RANGER, GENERAL, SPORTSMAN et SCRAMBLER neuf et non enregistré d'année modèle 2022. Les modèles RZR, Phoenix et pour jeunes ne sont admissibles à aucune de ces offres. Seuls les modèles RANGER sont admissibles à la garantie supplémentaire de deux ans. La garantie supplémentaire de deux ans ne s'applique pas aux modèles RANGER EV et édition High Lift. L'offre est valable au Canada et aux États-Unis. Le client et le concessionnaire doivent être établis dans l'une des provinces ou l'un des États admissibles pour profiter de cette offre. Cette offre ne peut être combinée aux offres de la Grande vente nationale de Polaris et ne peut être ajoutée à d'autres coupons exclusifs.
Demande d'échange du concessionnaire : Pour procéder à l'échange, ouvrez une session sur votre site Web des concessionnaires Polaris. Sélectionnez le programme Avantage agricole Polaris sur la page des promotions durant le processus d'enregistrement. Ouvrez ensuite une session sur le portail de demande d'échange de coupon, tapez « Polaris Ag Advantage » (avantage agricole Polaris) dans le champ du code du coupon, puis soumettez la documentation nécessaire. Téléversez l'acte de vente original (reçu d'achat) indiquant que le rabais a été appliqué au moment de l'achat en prenant soin de mettre en surbrillance tous les prix et descriptions de produits applicables. Téléversez la documentation appropriée en indiquant que la transaction a été enregistrée auprès de l'État et du gouvernement, comme un document prouvant l'adhésion comme membre enregistré du site agricole, un formulaire d'exonération fiscale de l'État, l'adhésion à une coopérative ou d'autres documents justificatifs. Le nom indiqué sur la documentation doit correspondre au nom qui paraîtra sur l'acte de vente. À défaut de soumettre la documentation appropriée, le concessionnaire se verra facturer par Polaris la différence entre le rabais du programme agricole et la remise accordée sur le modèle dans le cadre du programme en cours. Toutes les demandes d'échange liées à cette offre doivent être soumises en ligne dans les cinq jours suivant la vente du véhicule, ou avant. Pour chaque demande d'échange, le compte de pièces du concessionnaire sera crédité.