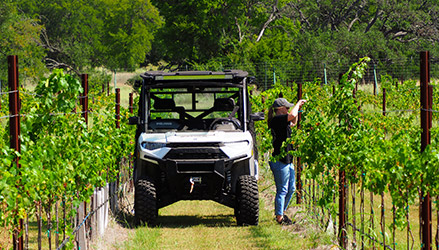 How a Polaris Ranger Helps a Vineyard to Grow.
>
From planting to pruning, irrigating to harvesting, a lot of labor goes into growing grapes. On this family-owned operation in Texas, a Polaris RANGER is vital to the work of wine.
As the sun rises over leafy grapevines still wet from the downpour the night before, Emily Jones slides into her Polaris RANGER CREW XP 1000 to make her morning rounds. She opens the tip-out windshield so she can feel the breeze and slowly makes her way through her vineyard's long, muddy rows. Stopping occasionally to clip off a few plump red grapes, she lays them in an old milk crate she keeps in the cargo box with other tools.
As vineyard manager of Slate Mill Wine Collective and Slate Theory Winery in the Texas Hill Country outside of Fredericksburg, Jones, 27, oversees the day-to-day farming operations for the family-owned business — 150 acres of vineyards spread over four locations, with more than a dozen varieties of grapes planted in blocks, like the squares of a quilt.
The chores on a vineyard are seemingly endless, and having the right tools is vital. No matter what the task or the season demands, Jones' roomy RANGER CREW XP 1000 helps her get the jobs done — and the business depends on it.
"We just got a lot of rain, and we're checking to see if the numbers — the sugar and pH levels — match what the wine team is looking for," she says. "I'll drive up a row and randomly pull out a cluster. The closer we get to harvest, the more frequently we do it. With so many varieties of grapes and 65 miles of vineyard rows to cover, I'd never be able to get this done without the RANGER. It's an indispensable tool."
Quick Work of Time-Consuming Tasks
In planting season in the early spring, Jones drives her RANGER through the 9-foot-wide rows of young plants, making frequent stops to secure them to rebar to help the vines grow upright.
"The reason we use the RANGER is because it fits between rows, unlike a truck, and is easier to navigate than a tractor," she says. "It's easier to hop in and out of, whether we're running irrigation, scouting, turning water on in fields, or hauling rebar. A tractor doesn't have a bed like the RANGER does and a truck is just too big and heavy for the space and the soil."
The powerful hauling muscle of the RANGER also means that more equipment can be hauled and distributed quickly and with few trips. In this case, two people can do a job that would otherwise take as many as 10 people.
"We can get 200 pieces of rebar at a time in the back of the RANGER," she says. "It's a beast. We'll lay out the rebar, and then go back to install the grow tubes. It would be really heavy labor and a lot of walking back and forth without the RANGER. We could only carry 10 pieces at a time by hand, so the RANGER reduces the need for manpower when we're covering 150 acres of grapevines."
By late spring, it's time to lay down irrigation lines; once again, the RANGER CREW XP 1000 turns a labor-intensive task into an easily manageable one. Its receiving hitch in the back can even haul large, awkwardly shaped, 40-pound spools. "The RANGER saves us a significant amount of time," she says. "Otherwise, we would be walking wire and irrigation lines through all 65 miles of vineyard rows, and carrying all that rebar by foot versus driving it."
For that very reason, "I used to loath running irrigation lines," Jones says. "But I learned that if we tie the end of the line to the end post of the row, and put the spool on the back of the RANGER, it unravels perfectly, and we just cut it and untie it. It's so much better than lugging a roll of irrigation tubing across the fields, where it gets twisted, and we have to keep untwisting it. It's a time-saver and a labor-saver — we just hitch up a spool to it and go."
It can motor through unpredictable terrain, too.
On any given day, rain or shine (her RANGER CREW XP 1000 is equipped with a UTV roof) Jones trusts the RANGER to safely get her where she needs to go, whatever obstacles may arise.
"Some fields are rocky with a lot of granite and limestone. Some are muddy," she says. "And there are a couple of creek crossings. I've never had an issue with it getting stuck. It's so easy to drive, and it's so smooth. We're going from field to field, hitting random bumps, and we can't even feel them, which is crucial. We go through mud and take turns that some other vehicles can't take. The RANGER's so easy to drive."
The Perfect Scouting Partner
Most recently, Jones has been using her RANGER to scout the rows of grapevines, sample fruit, and haul rocks out of the rows before harvest begins. Texas Hill Country has received more rain than usual this year, which can bring on pests and disease. As she cruises through the rows, now filled with fat, nearly mature grapes, she looks for mold, mildew, and persistent pests like grasshoppers, all of which can appear overnight and quickly destroy a harvest.
"Right now, we're always scouting," she says. "There's a multitude of fungus and bacteria we look out for. It's very humid, and we also have to watch for pests, so we can get in and spray."
Jones says that unlike a truck or tractor, the RANGER is also the best vehicle for scouting because of its smaller size — both width and height. "The fruiting zone is at eye level, which makes it better for us to look into the canopy, to reach in to grab a fruit sample, or pull some leaves away.
"I can't decide if we drive the RANGER more in the spring when we're planting or if we use it more when we're prepping for harvest," she says. "It's a toss-up. We use it every single day."
*All riders should always wear helmets, eye protection, protective clothing and footwear.
Unless noted, all trademarks are the property of Polaris Industries Inc. © 2021 Polaris Industries Inc.