Recreación
November 22, 2019
Tips for Side-by-Sides & ATV Sand Dune Riding
While Peru to the Red Center of Australia offer spectacular off-roading landscapes, you don't have to travel far to find world-class opportunities for riding sand dunes. Here's a roundup of some of the best UTV and ATV sand dunes in the USA.

But first, let's review some tips for riding in the dunes…
How to Ride an ATV in a Sand Dune
1. Drive at an Angle to Avoid Hazards
Taking an off-road vehicle out into the dunes requires specialized skills on how to navigate the sand to get the most out of your adventure and to stay safe while riding. Dunes come riddled with hazards, including unexpected holes called "witch's eyes" and steep drop-offs. The best way to navigate these is to angle your way up the dunes to scope out the far side rather than driving straight up them.
2. Reverse Vehicle if You Get Stuck
If you do get stuck, resist the urge to try to rev your way forward as this will only result in your vehicle sinking further into the sand. Instead, it is generally better to try to reverse out onto the firmed-down sand of your back track. However, if you do get stuck, you may need to utilize a winch or tow strap to get out.
3. Equip With the Proper Safety Gear
Most importantly, always wear a helmet and goggles when riding a side-by-side; they will help keep you safe and tinted goggles make it easier to see in daytime adventures out in the sun. Another must is to equip your vehicle with a whip flag at the adequate height to keep you visible to other riders out in the dunes.

Many dune-riding areas are remote, and it is easy for a stranded rider to be hidden on the skyline within the looming peaks and ridges of sand. Always ride in groups, and let others back home know your itinerary. Also, make sure you carry emergency essentials like a first-aid kit.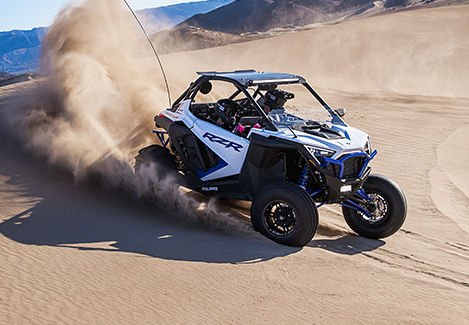 8 of the Best Sand Dune Parks in the U.S.
The biggest OHV open tract of sand in the country, the Imperial Sand Dunes Recreation Area is part of a huge sand sea, more broadly known as the Algodones Dunes, which extend into Mexico. More than 118,000 acres of the fantastic formation, some of which rise to 300 feet tall, are open to off-roaders. The main off-roading area is south of Highway 78 and given the scorching summer temperatures, prime time riding season is between fall and spring.
The most extensive dune field in the Silver State, the Winnemucca Dunes runs nearly 40 miles and boasts a great desert-mountain backdrop. Off-roading is allowed on the majority of this mixture of Bureau of Land Management land and private land.
The Oregon Dunes National Recreation Area lies within the largest coastal dune sheet in the U.S., which lines the Pacific margin along the Beaver State's central and southern shore. Here you can find striking sand barrens interweave with pockets of temperate rainforest, offering a unique landscape for dune-ready ATV and UTV riders. During the summer, fog is common which often reduces visibility, but enhances the overall maritime atmosphere.
Gleaming quartz grains heaped up to 400 feet high draw four-wheeler and side-by-side riders to the St. Anthony Sand Dunes, also known as the Idaho Dunes. Among the defining features are the spectacularly steep Choke Cherry Dune and the nearby Dead Horse Bowl.
At roughly 2,000 acres, the Hot Well Dunes is not a large sand-riding area in size, but it is a fun one. It has one major dune with numerous peripheral sand tracks and tubs fed from the hot artesian wells that make for a great post-ride soak.
About 60,000 acres of open dunes mixed with sagebrush and juniper define this outstanding Bureau of Land Management area in central Utah's Sevier Desert. The plentiful sand, which comes sourced from the vanished Pleistocene Lake Bonneville, provides some of the best dune-riding in the Intermountain West. Popular areas include the well-developed and varied trails of Black Mountain and the low-slung, beginner-friendly dunes south of it, but the pinnacle is Sand Mountain: a 700-foot-tall dune posing an alluring challenge to even experienced riders.
Nearly 1,600 acres of sand dunes, derived from ancient deposits of the Cimarron River, offer some of the best ridings in the central U.S., at the aptly named Little Sahara State Park. While the dunes top out around 75 feet, this site offers an extensive playground for ATV, UTV, and dune buggy.
The only sand dunes east of the Mississippi River open to off-road vehicles await at Silver Lake State Park along Lake Michigan. There is a 450-acre off-road scramble area with quite the stunning backdrop.
Enjoy Riding on Spectacular Sand
Con las técnicas adecuadas, las llantas adecuadas y la mentalidad adecuada, las dunas de arena de los EE. UU. ofrecen increíbles aventuras todoterreno. Aunque no es exhaustiva, la lista anterior de dunas de arena para SxS y ATV de primera categoría le brinda un punto de partida para planificar su próxima aventura. Le deseamos mucha diversión en la arena en un futuro cercano.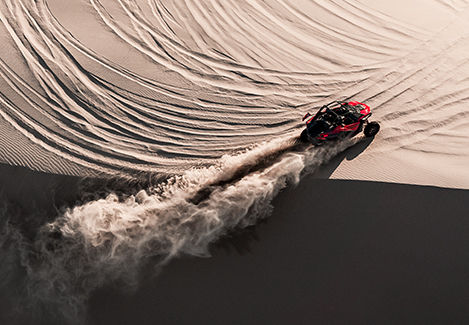 También podría gustarle...