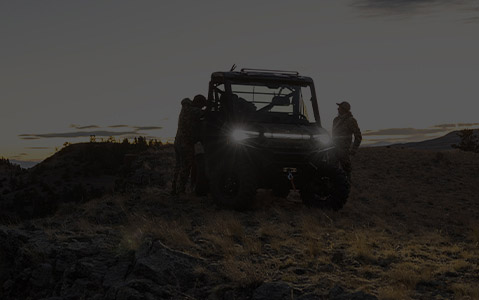 Massive power, instant acceleration and stealthy quiet. Should we go on?
Going electric is not about making sacrifices. Rather, it's about finding new ways to innovate in the off-road arena. The real reason we went after electric now is that it allowed us to deliver a whole new level of performance and capability for you in one of the quietest rides you'll ever experience.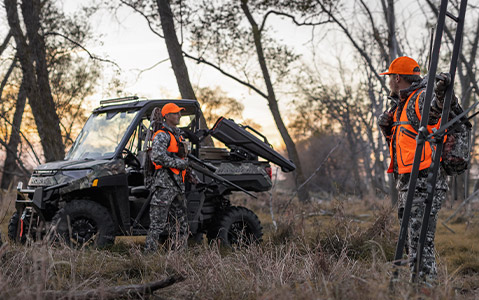 Ultra-quiet ride for work and play
Imagine the advantages of a significantly quieter machine for disturbance-free operation around your property and stealthy trips to your hunting grounds. Plus, conversations can easily be had with someone riding along in the cab or even with someone riding in another vehicle.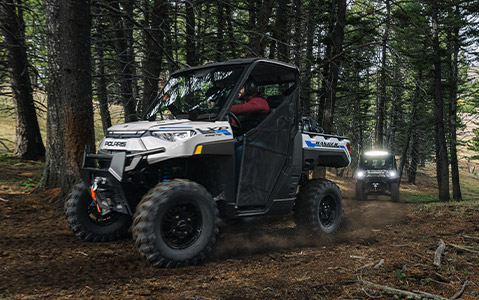 Going electric can provide an incredible rush of acceleration, going from 0 to 40 MPH in under 4.5 seconds on some models. It's the perfect combination of a 110-HP motor and instant torque of an electric drive train that will press you back into your seat when you hit the pedal.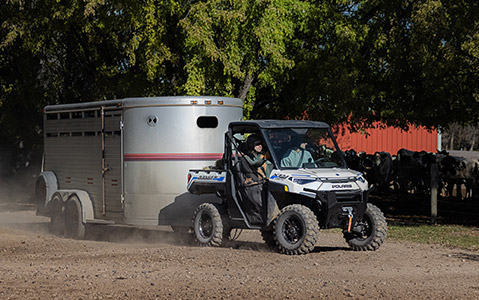 Haul and tow heavy payloads
Our electric drivetrain can deliver in impressive 140 lb-ft torque and 110-HP, imparting instant power to the tires to dig in and head out. Tow rocks, brick, dirt or big game with ease thanks to an unprecedented 1,250-lb hauling capacity, plus 2,500-lb towing capacity.
An electric power train requires less routine maintenance, so there's less to wear, less to keep up and less to replace. Oil, gas and the filters that go with them are all gone, plus there's no CVT and no clutches. All electric vehicles come with 1-year bumper to bumper, 3-year electric powertrain coverage and 5-year battery coverage.
The initial price of an electric vehicle is a little higher, but over the life of your vehicle, owners can expect to spend 70% less on maintenance and $200 less per year in gas. That's a savings of over $3,500 in 5 years.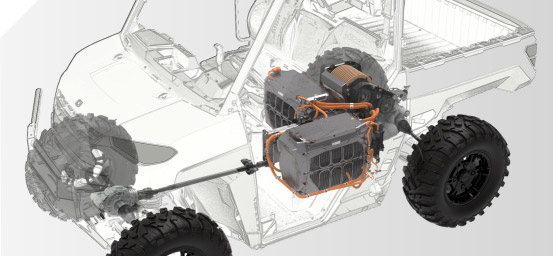 Sometimes less is more. The all-new electric powertrain features fewer moving parts for maximum durability. It's been torture-tested in extreme conditions and treacherous terrain and is backed by a 3-year electric powertrain warranty and a 5-year battery warranty. It's simple … fewer moving parts means less maintenance costs and more uptime.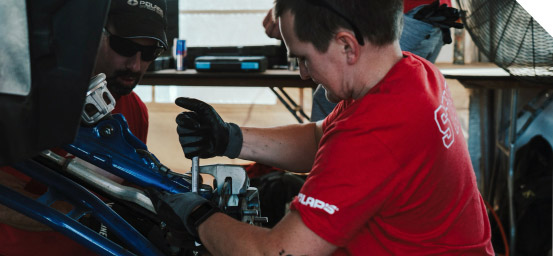 Of course every vehicle, even electric, will have some maintenance needs. So it's good to know our Dealer Service Network has the knowledge and expertise on hand to help you with upkeep of your ride. Contact your local dealer for more information on their full range of services.
Things You'll Never Do Again





Check external fuel hoses

*Promotional powertrain warranty inclusive of 12-month factory warranty plus an additional 24-month warranty. Promotional battery warranty inclusive of 12-month factory warranty plus an additional 48-month warranty. Please see terms and conditions for full details.
*Manufacturer estimate based on average scheduled maintenance costs over the course of a 5-year timeframe.
*Range estimates based on manufacturer data on typical customer driving usage and conditions. Actual range varies based on conditions such as external environment, weather, speed, cargo loads, rates of acceleration, vehicle maintenance, and vehicle usage.
*Charge times are estimates based on manufacturer-generated simulations. Charging time decreases as battery reaches full capacity. Results may vary based on amperage, peak charging times, and battery state of charge.