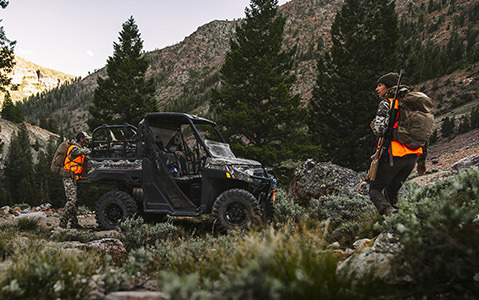 Join our hunt ambassadors for a behind-the-scenes look at how they plan for the season, prepare the land, and maximize their chance of hunting success with the help of Polaris Off-Road vehicles.
Choose the Best Hunting ATV or SxS
When hunting is your passion, you leave nothing to chance. The perfect gear, the ideal location and countless hours of scouting and planning lead you to that one moment of truth. Choose the perfect off-road vehicle to help ensure hunting success and create lifelong memories.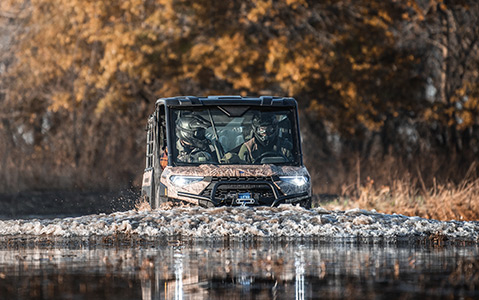 Scale challenging, rocky terrain with an ATV or go deeper into hunting grounds with a SxS. Both vehicles can be outfitted to tackle deep swamps, mud and other tough terrain.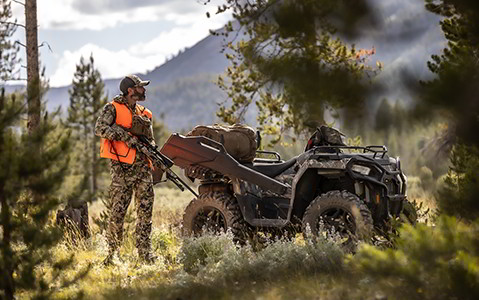 Step 2: Who are you hunting with and how much gear do you need to bring?
With multiple carrying capacities, be sure to choose an ATV or SxS with enough room for your gear and passengers. ATVs are best for riding solo and hauling smaller amounts of gear. SxSs can hold more gear and can fit up to six passengers.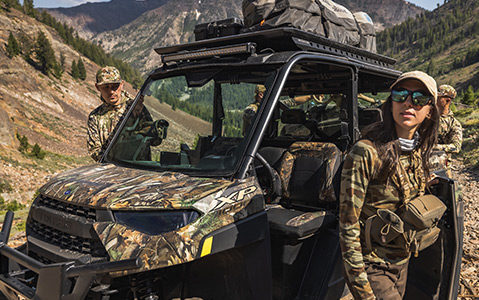 Step 3: How will you use an ATV or SxS on your hunt?
Choose the right vehicle based on how you like to hunt. ATVs are best for shorter trips to hunt smaller game while SxSs can get you into the backcountry and on the hunt for larger game.
Recommended ATVs and SxSs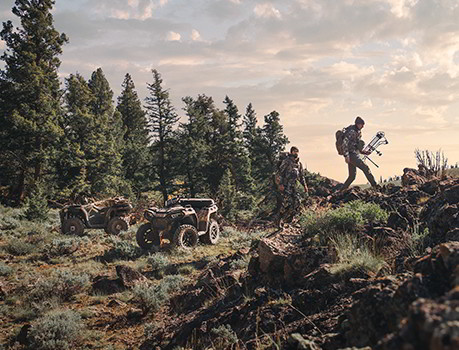 ---
Agile and powerful, Polaris Sportsman gives you the freedom and confidence to access hard-to-reach hunting spots to successfully harvest the ultimate trophy.
48" width enables you to fit in narrow trails and maneuver the tightest turns in the woods
On-Demand All-Wheel Drive plus 11.5" of ground clearance gives more traction and rides over even bigger obstacles to take on uncharted terrain
Up to 575 lbs. of payload capacity to haul game back out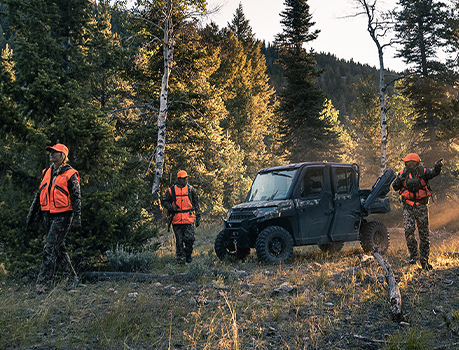 ---
Find the right fit for your hunt, for seating up to six, with a Polaris RANGER. Each is equipped with an impressive combination of power, strength, and suspension to handle any pursuit.
Save time with the power to transport passengers, gear and game with payload capacity up to 1,500 lb. and box capacity up to 1,000 lb.
Overcome rugged terrain with up to 11' of suspension travel and 14" of ground clearance
*Models shown are also available in CREW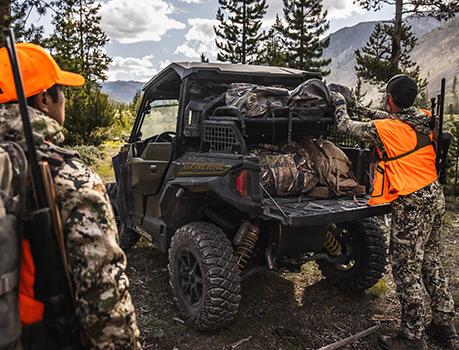 ---
Access remote hunting destinations with the performance, adaptability and comfort of Polaris GENERAL.
Go further with GENERAL XP's increased capability and ultra-responsive 100 HP engine
A 600 lb cargo box carries all the gear you need to stay out on the hunt
Stay comfortable on the roughest terrain and longest days with sport-tuned suspension and bolstered bucket seats

GOT A QUESTION? CALL US AT 855-390-0890
Our Polaris Product Pros are here to help. They are our passionate experts - men and women who live, breathe, and think outdoors every day. 8 AM - 6 PM CST (M - F)

NOT SURE WHICH OFF-ROAD VEHICLE IS RIGHT FOR YOU?
Let us help you narrow down Polaris Off-Road's large selection of vehicles to the one that's just right for your specific needs.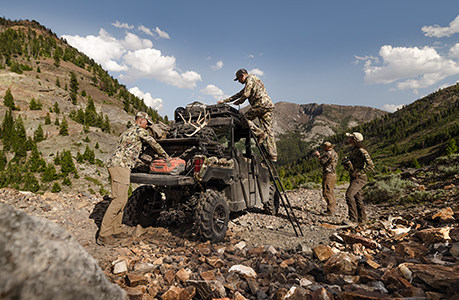 Industry-exclusive Rhino-Rack® premium storage solutions maximizes storage to transport more gear in and to haul game out with roof rack, bed rack, and load-securing attachment options.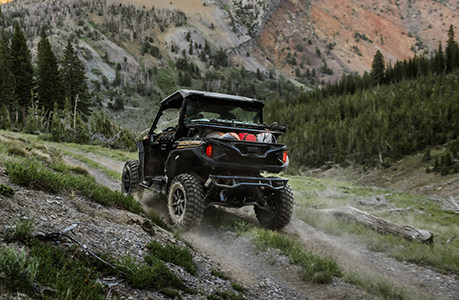 The all-new Rhino-Rack® Lock & Ride rear bed rack and load-securing attachments help you increase storage and keep gear secure on your adventure.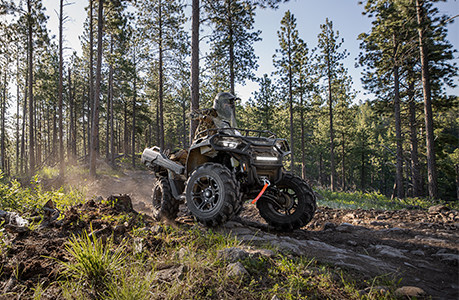 Sportsman Hunter Collection
Make your Sportsman your new favorite hunting partner. Navigate the trail and rough terrain with your hunting gear secure. Our unrivaled collection of hunt accessories gives you even more reasons to get out -- and stay out riding.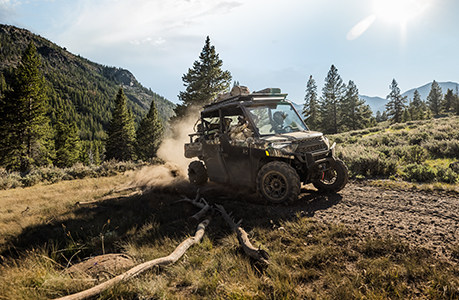 Learn what makes a UTV the perfect option for hunting.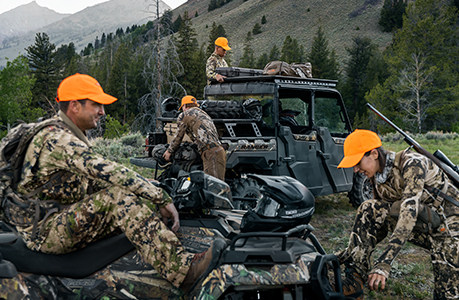 Get out there. In your element. Well past the point where other hunters choose to tread with a well-equipped hunting UTV or ATV.
Polaris Ride Command: A GPS Trail-Navigation Technology for ATVs & SxS
Elevate your off-road experience with Ride Command from Polaris - a powerful GPS trail - navigation technology with group riding and community sharing features
Hunt Partners & Ambassadors
These partners, ambassadors and organizations uphold Polaris Off-Road values: being the very best, supporting their community, respecting the land and doing what's right.
As the popular TV hosts of Outdoor Channel's Crush with Lee & Tiffany, Lee and Tiffany Lakosky prove that hard work, perseverance, dedication and skill can accomplish anything, including how to capture some of the biggest game there is.