Riding Tips
November 01, 2021
Common Off-Roading Essentials to Bring
Whether you're riding for a day or riding for a week, having a well-prepared kit of off-roading essentials will ensure you're ready for any situation. At Polaris, we not only pride ourselves in building the world's most formidable off-road vehicles, we also want to ensure you have everything you need to make your off-road experience safe, enjoyable and the best it can be. From simple trail-side repairs to an ATV first-aid or UTV emergency kits to survival packs - ATV, UTV and side-by-side riders of all skill levels will benefit from these off-road riding tips.
What are the tools you need for an off-road vehicle?
No matter your off-road vehicle of choice, from utility ATV to a sport side-by-side and everything in between, there are must have tools for any ride. To start, always review your vehicles owner's manual and become familiar with key service items and associated fasteners. If your off-road vehicle requires a special tool for what could be an at risk repair area, add it to your kit. Beyond that, your ATV or SxS UTV tool kit should be versatile enough to assist you in a wide range of applications. Recommended must have items in your kit include:


Adjustable wrenches or common sized wrenches specific to your vehicle.
Regular and Philips screw drivers.
Zip ties, small roll of flexible wire and duct tape.
Flashlight.
Tire plug kit with manual or 12-volt air pump.

Having common wrenches and screw drivers to possibly repair mechanical failures or make adjustments on the trail are a no brainer. While you can never prepare for all mishaps, having common tools can help you adjust handlebars and controls that get knocked out of position, change a spark plug, remove a tire, or make a suspension adjustment.

The "MacGyver" kit of zip ties, wire and duct tape have endless uses and can be used to "repair" just about anything. With some ingenuity and duct tape, we've seen broken control arms mended, cracked plastic repaired and even ripped jackets or leaky boots sealed on the trail with this do-it-all trio.

A flashlight will not only help you with repairs after the sun goes down but can be used to search for a dropped fastener deep within the nooks and crannies of your vehicle.

Lastly, flat or leaky tires are almost inevitable when you ride off-road. A tire plug kit can quickly repair a puncture and get you back on the trail.

Keep in mind, every off-road tool kit can be different depending upon your ATV or UTV and where you ride. Most likely you'll discover other items you may want to include with each ride. Keep a list and continually refine your ATV or SxS tool kit. Over time, you'll be a trail hero as others look to you to save the day on future trail rides.
Off-road safety equipment and supplies
Completing an ATV or SxS UTV safe riding course and always adhering to safe riding techniques should be on the must do list for every rider. Still, everyone needs to be prepared for the unexpected with a robust ATV or UTV kit of safety equipment and supplies including:


Proper riding gear.
A small fire extinguisher.
Mobile phone.
Matches, pocket knife, maps or GPS.
Never ride alone.

Proper riding gear and a helmet will not only protect you in the event of an emergency, they also fend off the elements. Polaris riding gear and helmets are engineered to keep you comfortable in all kinds of climates and situations, while also keeping you safe. While it's highly unlikely you'll ever need a small fire extinguisher, having one will give you much added peace of mind. Of course, the do-it-all capability of mobile phones should always be a part of any ATV or side-by-side safety kit, and when you download and install the Polaris Ride Command application, you can elevate you ride with advanced mapping, connectivity and sharing capabilities.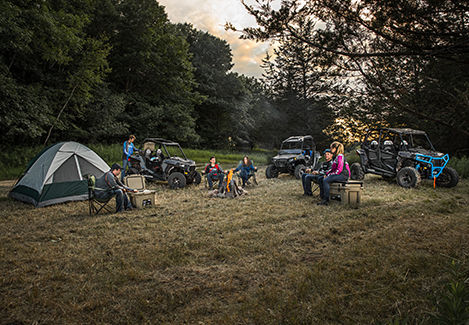 What to include in an off-road emergency/recovery kit
The best solution to any emergency situation in an ATV or UTV trail ride is to be prepared by adhering to ATV and UTV safety tips and having a well-equipped ATV or UTV emergency kit.


Tow strap.
Accessory winch.
First-Aid kit.

Start with ensuring you always carry a tow strap. It can be used to extract a vehicle or tow one back to camp. Securing your ATV or UTV with an accessory winch not only adds versatility to your vehicle it can be utilized in so many ways beyond the ride. From extracting a vehicle to being used to repair a tire, the cost associated with an accessory winch is well worth it. Last, but certainly not least, always have a well-stocked and well-rounded ATV or UTV First Aid Kit on your ride. Always go through the kit before you ride to understand what you have and how to use it. Of equal importance is to replenish used, lost or expired items and keep a list of things to add as you gain trail riding experience.
Common spare parts to bring during an off-road trip
No matter if you're an ATV or SxS UTV riding enthusiast, the following spare parts and repair items should be part of your off-road riding kit.


Extra fuel.
Spare rim and tire.
Lug wrench and jack.
12-volt air compressor.
Spare drive belt.
Spark plugs
Jumper cables or jump box.

While you might consider never passing a gas station without topping off, having spare fuel along is a must have, especially if you're heading into the backcountry. A few extra gallons of fuel will provide peace of mind when riding off-road. Most manufacturers offer accessory fuel cans and attachment systems designed to fit securely within your particular ATV or UTV. Next, a spare tire ready to mount is ideal, but if that's not possible a tire plug kit and 12-volt powered tire inflator are strongly recommended. To prepare for such an event, pack an appropriate lug wrench and jack for your vehicle. Other key items to consider include a spare drive belt (dependent upon vehicle), spark plugs and a portable jump box to get your ATV or UTV started if the battery fails and your vehicle doesn't have a manual start option.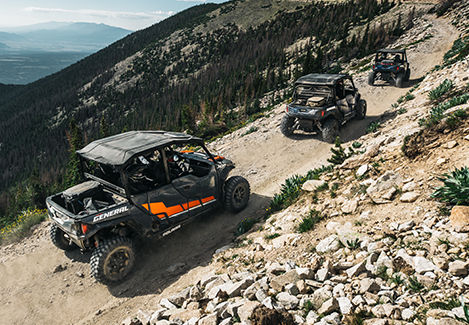 Common clothing and accessories to bring on your UTV trip
Where you ride, when you ride and changing weather conditions all play a role in determining what to wear while riding an ATV or SxS UTV and the accessories you need to bring on your off-roading trip. For clothing, dressing in layers and considering the possible extremes you might encounter will help determine what you wear and what you bring along "just in case." Extra gloves, extra goggles, and various mid-layering options or a durable all-weather shell jacket are all great items to consider. If your trip is going to cover extreme conditions and temperature swings, Polaris engineered apparel has layering, shirts, gloves and jackets with technology to keep you dry and comfortable in extreme heat, brutal cold and everything in between.


Technical layering apparel.
Off-road riding gloves.
Engineered cooling shirts.
Protective and vent capable jackets.

Beyond protecting your body from the elements, fueling yourself is equally important. Always pack water and more water. You may not realize it while riding, but your body is working hard, and staying hydrated will keep you alert, comfortable and safe. This is especially true when riding in extreme temperatures such as the arid desert. For snacks pack a variety of healthy, non-perishable options such as beef jerky, trail mix, granola or similar snack bars to keep you nourished while riding.


Water or electrolyte drinks.
Trail mix, nuts or beef jerky.
All-in-one energy bars.

Want to get riding faster? Consider the Polaris Ride and Repair Essentials Kit. With this kit and a little know-how, you can repair a flat tire, make mechanical repairs, jump start a downed vehicle, tow a vehicle and even perform minor first aid for cuts and scrapes. This kit takes the guess-work out of building your own kit and stuffs it all into an easy-to-carry bag.

Experience and planning are two of the best accessories you can employ to ensure your ATV or SxS UTV trail riding is the best it can be. Staying safe and being prepared with well thought out riding essentials, ATV riding accessories, clothing, snacks, UTV or ATV tool kits and ATV or side-by-side first-aid kits will make every ride more enjoyable for beginner and experienced riders alike.