Recreation
November 22, 2019
How to Ride Side-by-Sides and ATVs in a Sand Dune
While Peru to the Red Center of Australia offer spectacular off-roading landscapes, you don't have to travel far to find world-class opportunities for riding sand dunes. Here's a roundup of some of the best UTV and ATV sand dunes in the USA.

But first, let's review some tips for riding in the dunes…

Taking an off-road vehicle out into the dunes requires specialized skills on how to navigate the sand to get the most out of your adventure and to stay safe while riding. Dunes come riddled with hazards, including unexpected holes called "witch's eyes" and steep drop-offs. The best way to navigate these is to angle your way up the dunes to scope out the far side rather than driving straight up them.

If you do get stuck, resist the urge to try to rev your way forward as this will only result in your vehicle sinking further into the sand. Instead, it is generally better to try to reverse out onto the firmed-down sand of your back track. However, if you do get stuck, you may need to utilize a winch or tow strap to get out.

Most importantly, always wear a helmet and goggles when riding a side-by-side; they will help keep you safe and tinted goggles make it easier to see in daytime adventures out in the sun. Another must is to equip your vehicle with a whip flag at the adequate height to keep you visible to other riders out in the dunes.

Many dune-riding areas are remote, and it is easy for a stranded rider to be hidden on the skyline within the looming peaks and ridges of sand. Always ride in groups, and let others back home know your itinerary. Also, make sure you carry emergency essentials like a first-aid kit.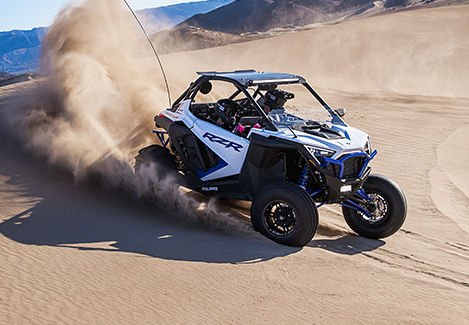 Best Sand Dune Parks in the U.S.
With the right techniques, the right tires, and the right mindset, the sand dunes of the U.S. offer incredible off-roading adventures. While not comprehensive, the above lineup of top-grade SxS and ATV sand dunes gives you a starting point to plan your next adventure. Here's to plenty of sand spraying in your near future!