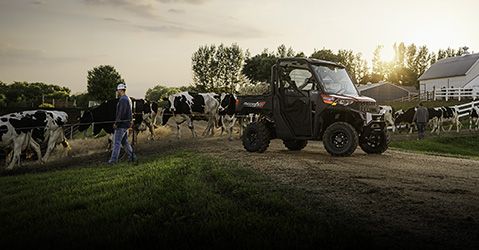 Support Those Who Help Grow Our Country

The food on our table comes from more than just a grocery store. It's been grown by dedicated individuals that have made it their life's work to provide for this country. Today, we celebrate the people who have been there from the beginning; America's farmers and ranchers.

Feeding a country takes hard work, the willingness to take risks and an innate drive which few possess. Polaris is proud to share these same values and help keep America's farms and ranches running strong with innovation in the off-road.
Get a FREE 1-year promotional limited warranty on select ATV models or a FREE 2-year promotional limited warranty on select RANGER models.
Choose a brand below to check eligibility and see available vehicle, accessories, parts, lubricants, and apparel offers in your area.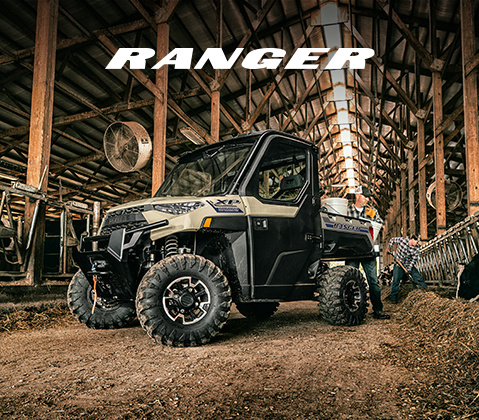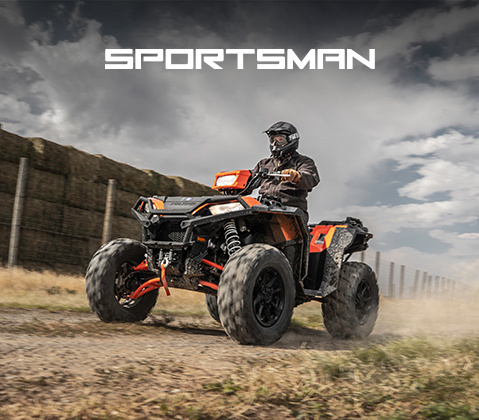 Giving America's Farmers & Ranchers Tools to Succeed
Adding Value and Innovation to One of America's Toughest Professions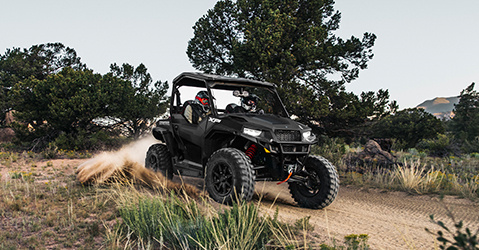 THE DRIVE TO GET THINGS DONE
From getting utility work done with RANGER side-by-sides, to maneuvering around the farm quickly on a Sportsman ATV, to enjoying backcountry trails on the sport-utility GENERAL, Polaris has the best off-road lineup to tackle the task at hand.
AS RELIABLE AS THE DAY IS LONG
Whether it's moving hay bales, hauling feed or just taking in what you have built at the end of a long day, having a reliable, comfortable off-road ride is essential on a farm or ranch. With that in mind, Polaris has a portfolio of products suited to handle these needs.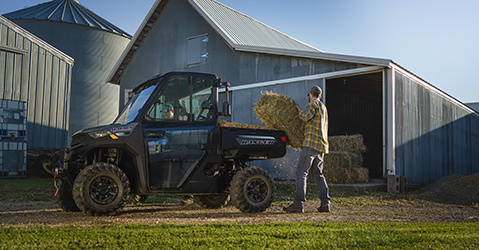 Plus, with the industry's most integrated and broadest lineup of accessories and implements, Polaris has everything you need to upfit your machine. From plowing to spraying, to storage and protection gear, Polaris Engineered Accessories allow you to customize your machine to be as versatile as you want it to be.
With a cross-country network of dedicated dealers that can help you choose a vehicle best fit for you, Polaris is dedicated to providing the best purchase experience possible.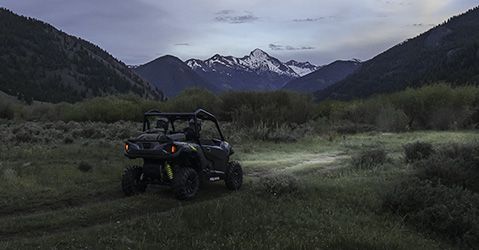 "One evening my dad and I had fence taken out and had to rebuild it. Well time got away and it got dark on us in some hilly country. I have my General outfitted with several lights, so we were able to use them to build into the dark. The versatility of the General allowed us to cross ditches and keep all of our supplies with us while building."
AG Advantage Promotion:
Restrictions: This offer is valid through December 31, 2022. 1-year promotional limited warranty is valid with purchase of any new and unregistered 2021 - 2023 SPORTSMAN models. 2-year promotional limited warranty is valid with purchase of any new and unregistered 2021 - 2023 RANGER models. RZR, GENERAL, Phoenix and youth models are not valid with any offer. 1-year promotional limited warranty consists of 6-month factory warranty + 6-month promotional limited warranty. 2-year promotional limited warranty consists of 12-month factory warranty + 12-month promotional limited warranty. Free promotional limited warranties aren't valid on SPORTSMAN High Lifter models, RANGER EV, Diesel, XP Kinetic or RANGER High Lifter models. This offer is not stackable with other national promotional rebates or fleet/gov discounts. Promotional financing rates can be used with this offer. This offer is eligible in the US. Customer and dealership must reside in one of the eligible states to qualify for this offer. Customer's registered farm site number or other supporting document that proves the operation has been registered with the state and government is required at time of purchase. Polaris reserves the right to request additional information from the dealer or customer at any time and facilitate an audit to ensure all regulations are being followed.
Dealer Redemption: This is a Polaris OEM coupon. For redemption, log on to your Polaris Dealer Website. Select the promotional limited warranty on the promotion selection page during the registration process. Then log on to the Coupon Redemption Portal on DEX under Dealer Management and proceed with the documentation submission process using the coupon code "Polaris Ag Advantage." Upload the original bill of sale for wholegood purchase that indicates the warranty was redeemed at the time of wholegood purchase with all applicable pricing and product descriptions highlighted. Upload proper documentation indicating operation has been registered with the state and government such as a registered farm site member, state tax exempt form, co-op membership or other supporting documentation. Name on documentation must match the name on the bill of sale. Polaris will audit warranty selections on a quarterly basis, and if proper documentation hasn't been submitted and approved on the Coupon Redemption Portal, dealer will be charged back for the cost of the warranty. All offer redemptions must be submitted online within 30 days after sale of vehicle or earlier.