Experience RIDE COMMAND by Polaris
Enjoy the confidence to plan your best rides, track your unforgettable journeys and share your epic adventures.
The ride keeps getting better with all new Automatic Volume Control and Group Ride messaging.
* Available on select 2019+ models
RIDE COMMAND technology is built into select vehicles and you can access it on your favorite devices.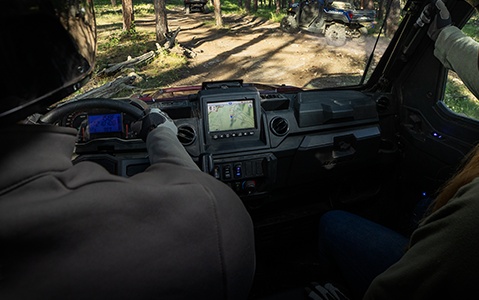 "If your other friends have RIDE COMMAND technology with the in-dash display or have downloaded the RIDE COMMAND app, you can actually add them to your Group Ride, and if they have a problem along the trail, you can see right exactly where their RZR is also. So even if you don't have service, it keeps you guys safe and makes sure everyone gets back to camp safe."


- 5-time off road racing champion RJ Anderson
With global coverage of pre-downloadable maps available offline, you'll know where to go whether you have cellular coverage or not.
Ride with confidence knowing you have industry-leading technology leading the way.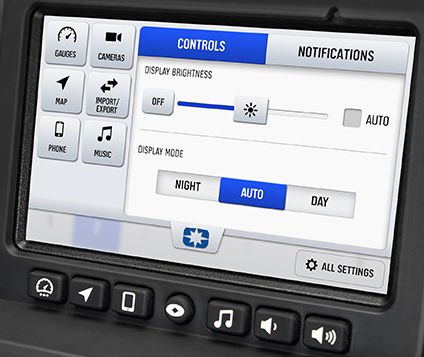 7-Inch Glove Touch Display
RIDE COMMAND is at your fingertips, in any climate. And because this technology is fully-integrated into the dash, you won't have to give up the use of your phone.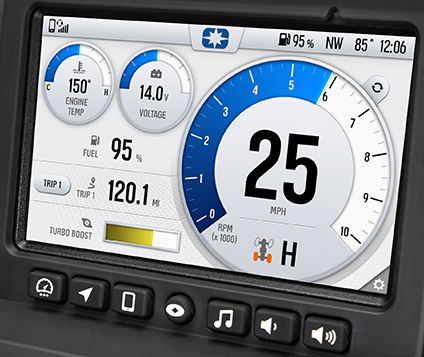 Customize your ride experience by choosing which RIDE COMMAND features you want to see on your in-dash display. From your elevation, travel direction, fuel life and more, your options are endless to create the most relevant screen for you.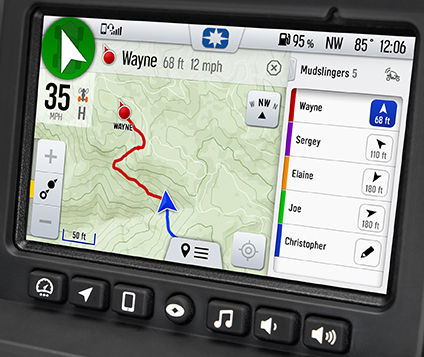 Communicate, navigate and stay connected with your group on any Group Ride. The new Group Ride Messaging feature sends messages to your group, on or offline. Use the Follow the Leader feature to select a group leader and follow their vehicle using directions from your display. You can ride at your own speed and keep fellow riders in sight, even if you get split up.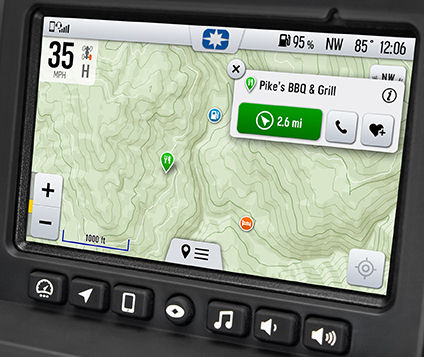 A big part of riding with confidence is preparation. RIDE COMMAND makes planning your route and onboard navigation easy by adding points of interest and waypoints to make the most of your off-road adventure.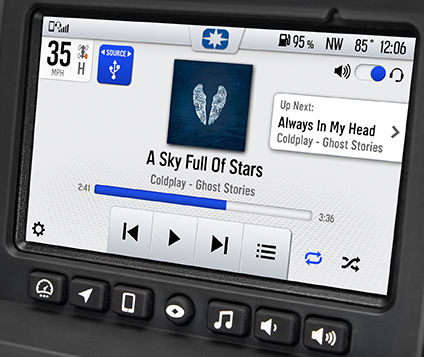 Personalized Audio Experience
Seamlessly pair to your RIDE COMMAND display via Bluetooth to wirelessly stream music and stay connected with call and text alerts. New automatic volume control adjusts your volume with your speed based on 3 mode selections - low, medium, and high. Keep your hands on the wheel and never miss a beat.
In-Dash Display Available on These Brands*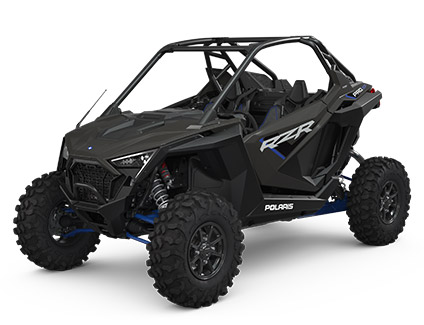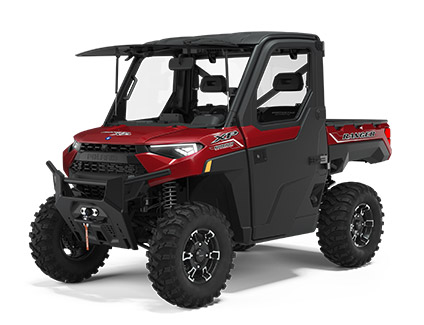 RANGER - Utility Side x Side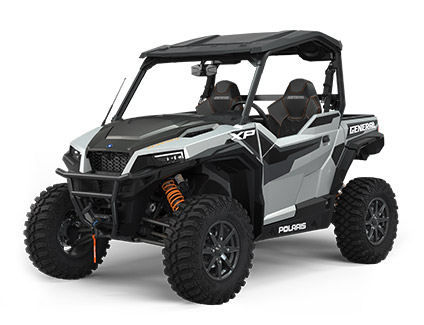 GENERAL - Adventure Side x Side
*Availability of some equipment, options and/or features, including Wi-Fi connectivity on Ride Command models, may be limited or not available due to global supply issues affecting our industry. Please continue to build your vehicle and request local dealer price but be sure to work with your local Polaris dealer to ensure the vehicle you purchase includes all expected features and equipment.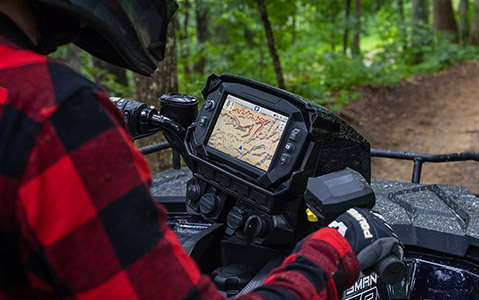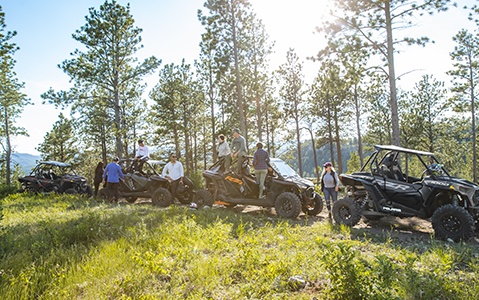 "This app is great for when you are riding on the trails! The map includes all of the ORV trails and routes, places to eat and places to fill up on gas. Five stars for everything about this app!"

- RIDE COMMAND App user
Access the benefits of RIDE COMMAND with our mobile app, even if your vehicle doesn't have the in-dash display. Connect with friends, share your routes and unlock the five-star riding experience only RIDE COMMAND can provide.
Conveniently created for riders to elevate the off-road riding experience on the go. Access comprehensive trail data, track your rides, and manage your routes, waypoints and more. The app also allows you to participate in Group Rides along with RIDE COMMAND equipped vehicles.

View ride areas, points of interest, and dealerships all on the map of your smartphone. RIDE COMMAND provides downloadable maps for offline use and weather updates including snow and rain fall.

Experience group riding like never before with RIDE COMMAND Group Ride and the Follow the Leader feature. Invite a rider to your group to see their live location on the map. Assign a rider in your group to be the leader and follow their trail through any twists and turns you encounter.

Connect With Other Riders
Share your ride experience with friends and create events with fellow off-road enthusiasts. With 3D flyovers, you can share your favorite rides, including photos, even after the ride's over.
Access over 750,000 miles of trails to plan and discover new riding opportunities. View and manage all of your map content, including tracked rides and waypoints, in your RIDE COMMAND account.
Trip Planning and Points of Interest
Plan a route using off-road trails and your own tracked rides. New trail and point of interest data is available daily for you to plan the most accurate and entertaining adventures. View 3D flyovers of your planned route, create your riding group, and share everything with friends before you hit the trails.
Add your vehicles to the Garage and keep detailed maintenance records. Continue to build your virtual garage to stay up to date with the latest information tailored to your specific vehicle, including RIDE COMMAND software updates.