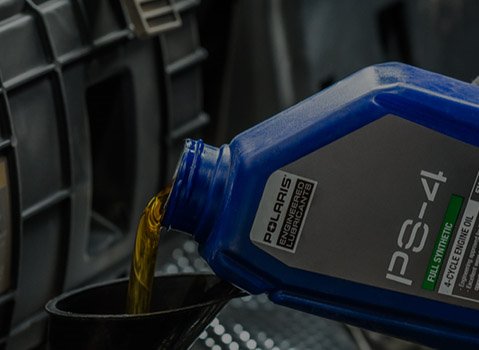 LET'S KEEP A GOOD THING GOING
Proper maintenance of your vehicle offers a world of benefits, and is a huge source of pride for many riders. Your vehicle was engineered to be easy to work on. This not only helps minimize downtime, it can also help with trade-in value, protect your warranty, and enhance rider safety. If you like to DIY or prefer the pros to handle it, there are resources for you. Either way, it's important to know some basics if the unexpected ever happens off-road.
BASICS OF VEHICLE MAINTENANCE
Your off-road vehicle, just like a car, has a routine maintenance schedule, which can be accessed in your online Polaris account. It holds info on everything from oil changes to air filter replacements, along with parts and more, including how-to videos, like these seen here, for the DIYer. Keep in mind the amount and type of riding you do will influence your maintenance schedule.
REGULAR MAINTENANCE TASKS FOR ANY VEHICLE

Replacing fluids and filters

Checking battery and belts

Maintaining brakes and tires

EVERYTHING YOU NEED TO KNOW SPECIFIC TO YOUR VEHICLE
It's not just knowing how to do, it's also knowing where to look.
ESSENTIALS TO HAVE ON HAND
Whether you DIY or not, every off-road owner should have some of these basic tools handy for a quick fix.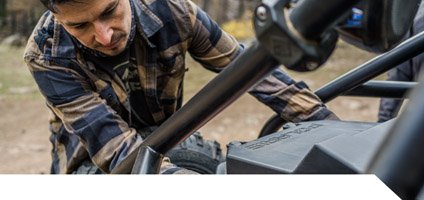 ESSENTIALS TO BRING OFF-ROAD
When you're out there everyday it's important to prepare for the unexpected. Keep these items with you at all times.
PARTS AND MAINTENANCE SUPPLIES FOR THE DIYER
If you like to work on your own vehicles, you know quality and fit are extremely important. Keep your ride running at peak performance by keeping these essentials on hand.
---
Polaris also offers air filters, brake pads, batteries, spare tires and more.
Shop Polaris products designed and tested on your vehicle:
Polaris Engineered Parts and Accessories™ are made by the same people who design the vehicles. Our accessories are designed with industry-exclusive technologies right alongside your vehicle, gauaranteeing quick installation and a perfect fit every time. They even come with their own warranty.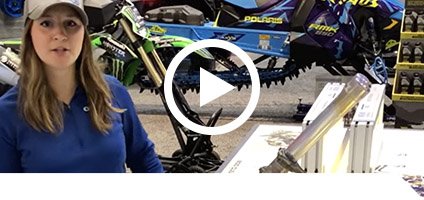 WHERE CAN I GET POLARIS PARTS AND SUPPLIES?

SEASONAL MAINTENANCE TIPS
Where you ride plays a big role in how you care for your vehicle. Will it have an off-season or will you ride all year long? Will it need to handle the cold and snow or the extremes of the desert? We have resources to help.
PROFESSIONAL SERVICE OPTIONS
Prefer to let the pros handle the details when it comes to upkeep and maintenance of your off-road vehicle? Your local dealer can help. Most dealers offer standard services and many offer RIDE READY - a new, more convenient way to tackle tune-ups and more.
Most dealers offer a standard set of services for your vehicle, from routine maintenance and repairs to upgrades and installs.
---
Oil changes
Tune-ups
Diagnostics
Repairs
Add-Ons & Upgrades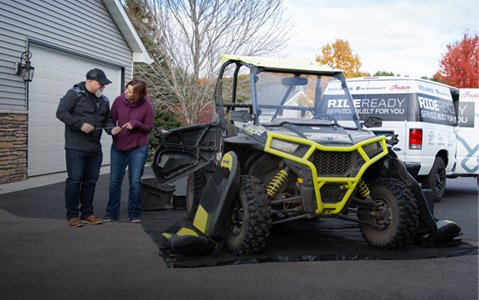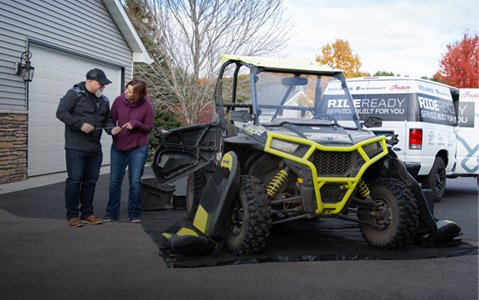 A new way to get your vehicle serviced. It's available from select dealers, and offers basic repairs in your driveway. Or they can pick your ride up at your door for more extensive updates and repairs. You can even schedule online.

Find out if RideReady is available in your area.