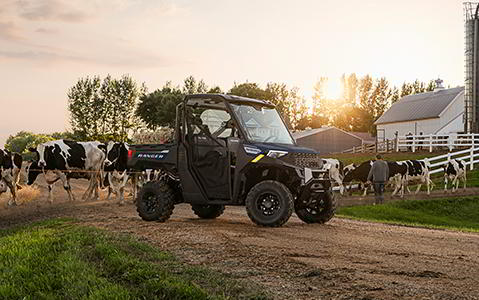 See how farmers, ranchers and ag professionals have made America's most trusted off-road vehicles the backbone of their operations—maximizing productivity and minimizing downtime. They put these powerful Polaris machines to work in places trucks or tractors simply can't go while delivering long-lasting capability and comfort in some of the most challenging conditions you can imagine.
Choose the Best Farming ATV or SxS
No matter the size of your farm or ranch, there's an ATV or SxS that's a great work partner for your operation. From a compact, nimble and affordable ATV, to the robust towing capacity, large payload, and multi-passenger seating of a SxS, Polaris has a farmhand with the right power and capability for your operation.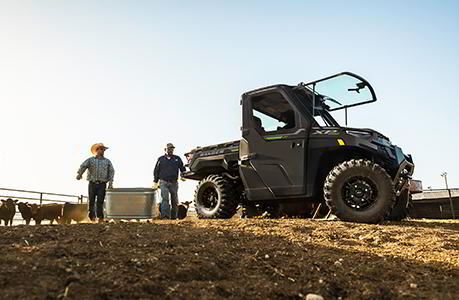 What Type of Farm Do You Have?
ATVs are ideal for touring smaller acreages or getting smaller jobs done. If you need to check on large pastures or carry supplies, a SxS may be a better option.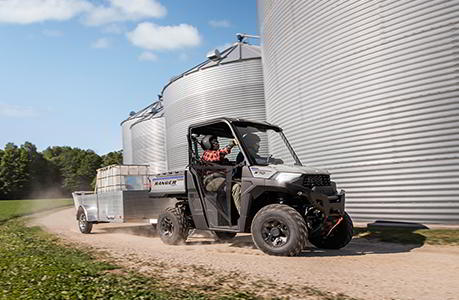 Will Farmhands or Family Be Riding With You?
ATVs are perfect for solo rides or with another passenger on a touring model. SxS offer greater flexibility to haul gear, up to six passengers or both with different seating options and exceptional payload capabilities.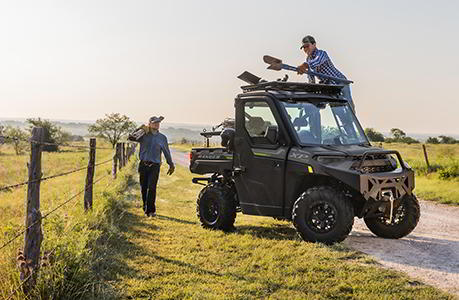 How Will You Use an ATV or SxS on Your Farm or Ranch?
Whether towing, hauling or riding, choose an ATV or SxSs and customize with accessories to fit your needs. ATVs are more nimble but have lower payload and towing capacities than an SxSs.
Recommended ATVs and SxSs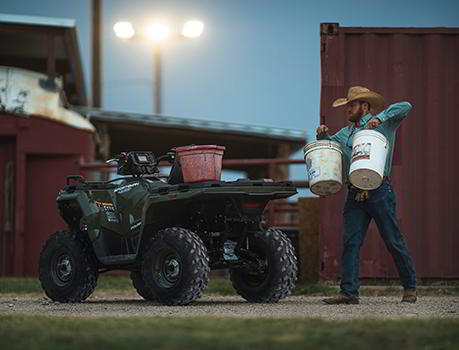 ---
Easy to use, versatile and packed with value, Sportsman delivers legendary performance and confidence so you can accomplish more before sunrise than most folks do all day.
Put Sportsman to work for you on your farm or ranch.


Transport supplies with 6 gallons of sealed storage and up to 1,750lbs towing capacity
Easily maneuver around the farm and light weight to get you into hard to reach areas without risk of tearing up the fields.
Go where heavy equipment can't with Fast‑engaging AWD providing power to the wheels when traction loss is detected.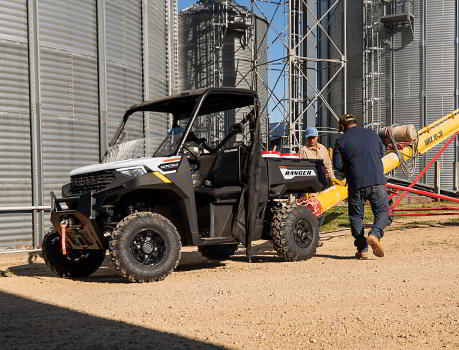 ---
More farmers and ranchers trust Polaris RANGER than any other SxS. Comfortable, capable, and with vehicles that range from full-size value to the ultimate in all-weather comfort, there's one perfect for your farm.

Get more done with RANGER on your farm or ranch.
Power to confidently haul feed, minerals and hay for livestock with 1,000 lb box capacity and 2,500 lb towing.
Carry everything you need to mend fences or repair equipment with in dash and under-seat storage.
Go where heavy equipment can't with fast engaging AWD
Accessories to Get the Job Done
Make your off-road vehicle the most capable sidekick to tackle heavy-duty workloads with Polaris Engineered accessories. With the right accessories, attachments, and implements, you can save time and get more done on the farm.
With a Polaris Pro HD winch, easily remove fence posts, tree stumps, and more with added pulling power. Plus, with Rapid Rope Recovery you can retrieve rope quicker to get back to the task at hand.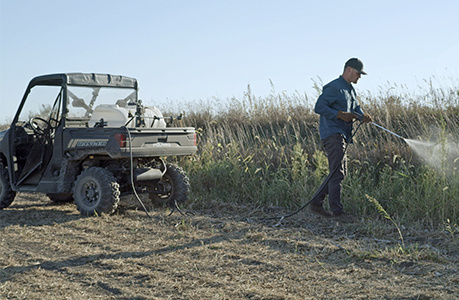 Tackle your biggest spraying jobs like a pro with a boomless utility sprayer. The boomless design allows for enhanced maneuverability as you ride precisely where you want to spray, whether it be fence rows or spot spraying.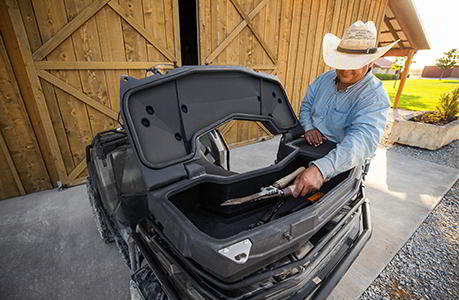 Easily transport all the tools and materials you need on the job with added storage accessories including storage boxes, racks and extenders, and more.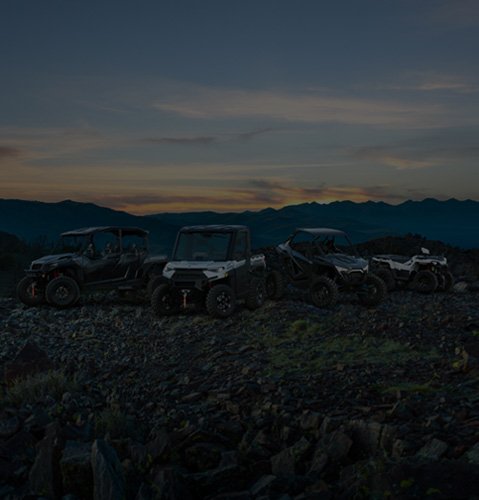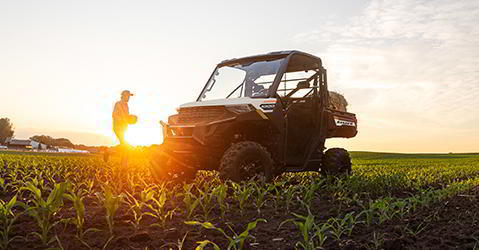 For Farmers & Ranchers
Polaris is committed to supporting the agriculture community through industry-leading vehicles, partnerships and programs for the community. Because hard work never punches out.
A WORKHAND WITH YOUR WORK ETHIC
There's no time to do it twice. Which is why the right equipment is so important. Our vehicles are purpose-built for towing and toughness to take you places heavy equipment won't go. Pair this with the industry's most versatile accessory collection, and we've got you covered to tackle the toughest jobs.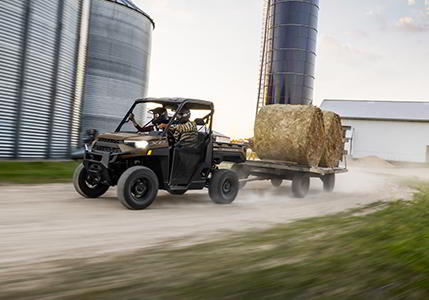 Accessories designed to make any job easier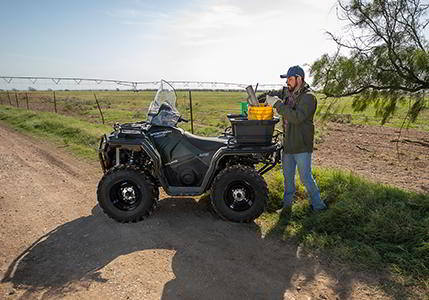 Develop good maintenance habits to ensure your ride is up for any task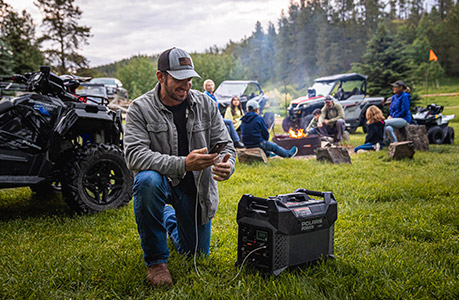 If you need power that won't quit, look no further than our heavy duty generator to back up equipment.